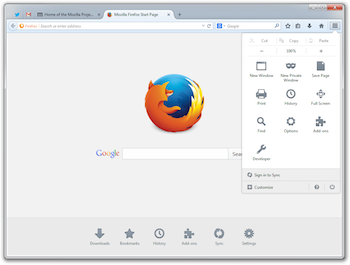 The new
Firefox Beta is faster, simplified and easier to customize
and we need your help to test it out before it gets released in a few weeks time. There is now an easy way to review Firefox user interface changes without even installing the new version. "How is that possible?" you might ask. We have a collection of hundreds of screenshots of the new Firefox in various different
configurations
(affecting features such as tabs, toolbars, themes, customization mode, and the new menu) that are ready for you to
review
. It's fast and easy to do in three simple steps:
Open up the screenshot review tool and enter a nickname to log in (there may be a small reward for the most valuable contributions so keep that in mind when choosing)
A random screenshot will be displayed where you can simply identify any visual issues related to the new user interface that you may see. Simply drag to select the region of the image and add a comment (and optionally a bug number). See an example.
When you're done reviewing that image, simply click the button to get another and go to step 2. Endless fun ensues!
Of course, installing
Firefox Beta
, testing the functionality and
filing bugs
is still really valuable and encouraged. Areas to focus on include the new customization mode, menu panel, tabs, and Firefox Account Sync. So, what are you waiting for?
Start reviewing now
.